Paper Bag Lunch: Achieving effective board governance to maximise impact
Wendy Brooks & Partners invites you to the next compelling event in our Paper Bag Lunch Series:
Achieving effective board governance to maximise impact
What are the qualities of a good director?
What role does governance play in determining the fate of an organisation?
Why should your organisation prioritise board development?
Governance matters. Our third Paper Bag Lunch for 2018 will explore the value of not-for-profit boards and share practical advice on building and maintaining strong foundations of good governance.
We will answer your questions and share resources to assist you to strengthen your board's qualities, personnel and effectiveness, and help you to build on your own knowledge and skills as a potential or current director.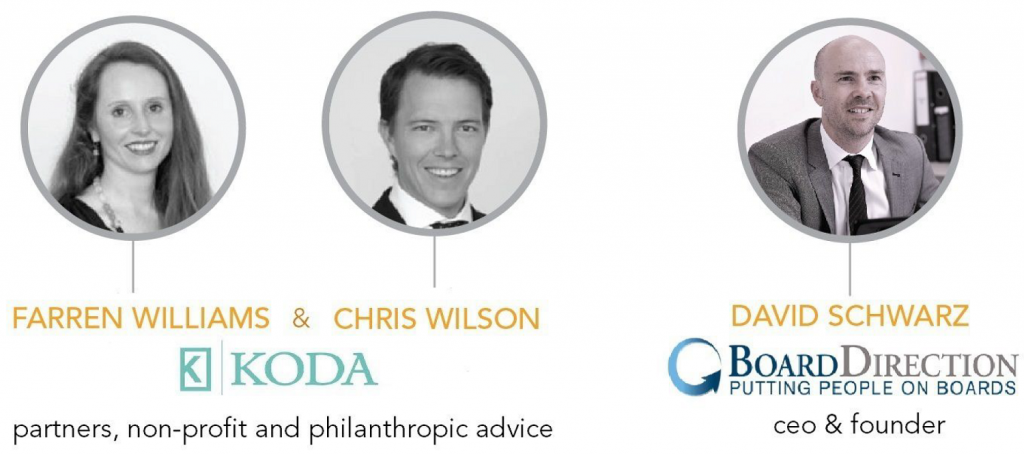 Our speakers Farren Williams and Chris Wilson (Koda Capital) are leaders in developing strong governance frameworks and strategies for not-for-profit and philanthropic boards. David Schwarz (Board Direction) is Australia's leading board recruitment expert and practiced in assisting organisations to get the most value from directors.
This Paper Bag Lunch will help clarify how boards can and should drive value for the organisations they represent.
Don't miss the opportunity to join the discussion and meet other individuals and organisations working towards an equitable society.
Date: Wednesday 12 September
Time: 11:45am for a 12:00pm start – 1:30pm
Venue: Westpac, Level 12, 150 Collins Street, Melbourne
RSVP: Click here to register your attendance.
A light lunch and refreshments will be served, thanks to the generous support of our friends at Westpac.
The Paper Bag Lunch event is free. The team at Wendy Brooks & Partners is dedicated to building capacity of a not-for-profit and social sector that creates positive and lasting impact.
When the event is booked out a waiting list will be created.
share on