violence against women is a manifestation of unequal power
Take action: 10 ways you can help end violence against women on this International Day for the Elimination of Violence against Women.
According to the U.N. Declaration on the Elimination of Violence against Women (1993), "violence against women is a manifestation of historically unequal power relations between men and women, which has led to domination over and discrimination against women by men and to the prevention of the full advancement of women, and that violence against women is one of the crucial social mechanisms by which women are forced into a subordinate position compared with men".
The historical nature of gender-based violence confirms that it is not an unfortunate aberration but systematically entrenched in culture and society, reinforced and powered by patriarchy – a system for maintaining class, gender, racial, and heterosexual privilege and the status quo of power – relying both on crude forms of oppression, like violence; and subtle ones, like laws; to perpetuate inequality. We must also recognise that the gendered nature of the power imbalance can be compounded by the impact of class, culture, (dis)ability, religion and the life experience of women.
Therefore, on this International Day for the Elimination of Violence against Women we must be prepared to consider how we can disrupt the power imbalance that is the basis of the violence against women. We must never stop talking about power and we should always work to share power.
This year's theme for the International Day for the Elimination of Violence against Women is "Orange the World: Fund, Respond, Prevent, Collect!"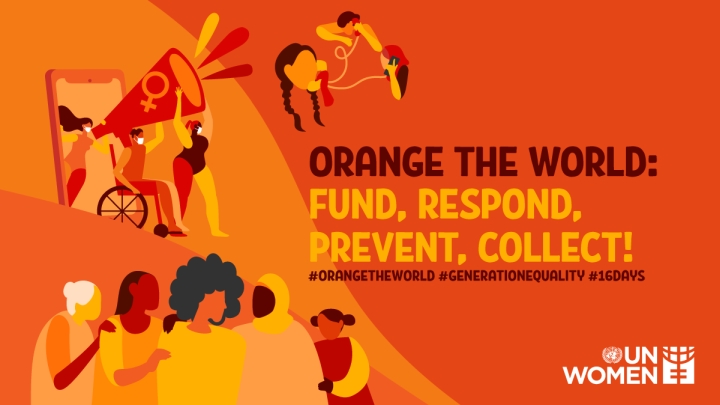 The colour orange symbolizes a brighter future, free of violence. It also serves as a means of demonstrating your solidarity in eliminating all forms of violence and it is therefore used as the colour of the International Day for the Elimination of Violence against Women.
UN Women is joining hands with survivors, activists, decision-makers, the UN system, and people from every walk of life, to shine a light on the need for funding, essential services, prevention and data that shapes better-informed responses.
Ending violence against women is everyone's business and will make the world a better place for everyone!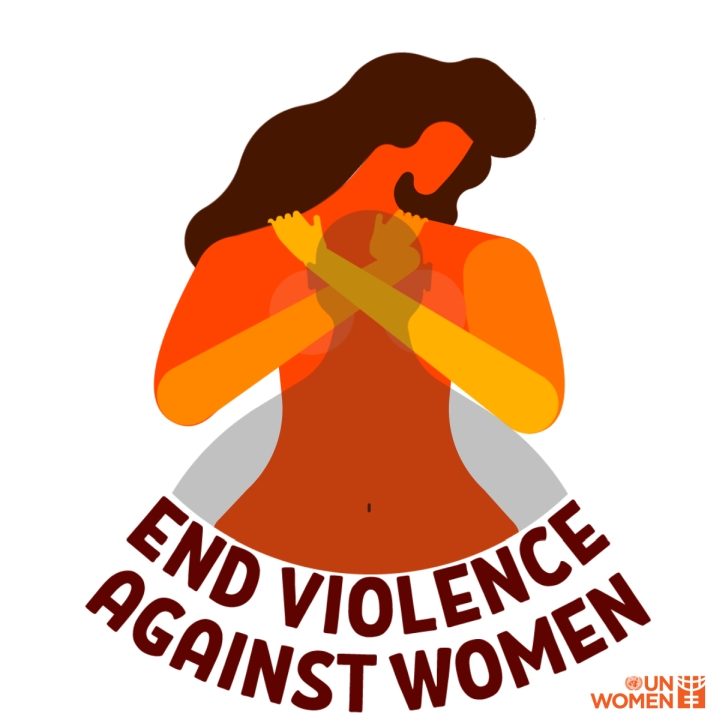 Here are ten ways you can make a difference, safely and impactfully (adapted from an article originally published on Medium).
Listen to and believe survivors
"We hear you. We believe you. We stand with you."
When a woman shares her story of violence, it's on all of us to give her the safe space she needs to speak up and be heard.
Call out victim-blaming and counter the idea that it's on women to avoid situations that might be seen as "dangerous" by traditional standards.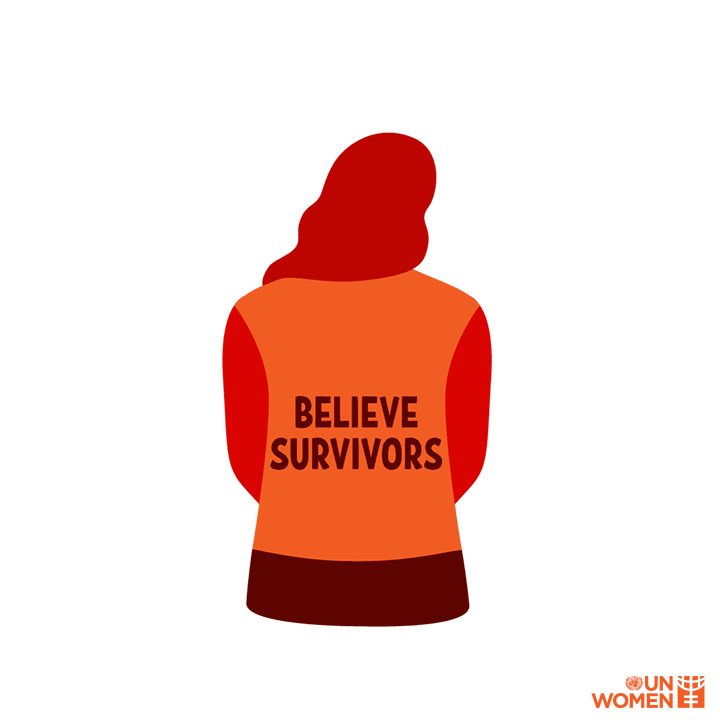 Teach the next generation and learn from them
Start conversations with the younger gender about gender roles early on, and challenge the traditional features and characteristics assigned to men and women. Point out the stereotypes that children constantly encounter, whether in the media, on the street or at the school, and let them know that it's OK to be different. Encourage a culture of acceptance.
Talk about consent, bodily autonomy and accountability to boys and girls, and also listen to what they have to say about their experience of the world. By empowering young advocates with information, and educating them about women's rights, we can build a better future for all.
Call for responses and services fit for purpose
Join us in calling on governments to bridge funding gaps to address violence against women and girls, ensure essential services for survivors of violence are maintained during the Covid-19 crisis, implement prevention measures, and invest in collecting the data necessary to adapt and improve life-saving services for women and girls.
Understand consent
Freely given, enthusiastic consent is mandatory, every time.
Rather than listening for a "no," make sure there is an active "yes," from all involved. Adopt enthusiastic consent in your life and talk about it.
Learn the signs of abuse and how you can help
There are many forms of abuse and all of them can have serious physical and emotional effects. If you're concerned about a friend who may be experiencing violence or feels unsafe around someone, review these signs and learn about the ways to help them find safety and support.
If you think someone is abusing you, help is available. You are not alone. If you'd like to talk with a trained advocate at a helpline, The Help is Here campaign provides information on support services available to anyone affected by domestic and family violence, to help them access the support they need, when they need it.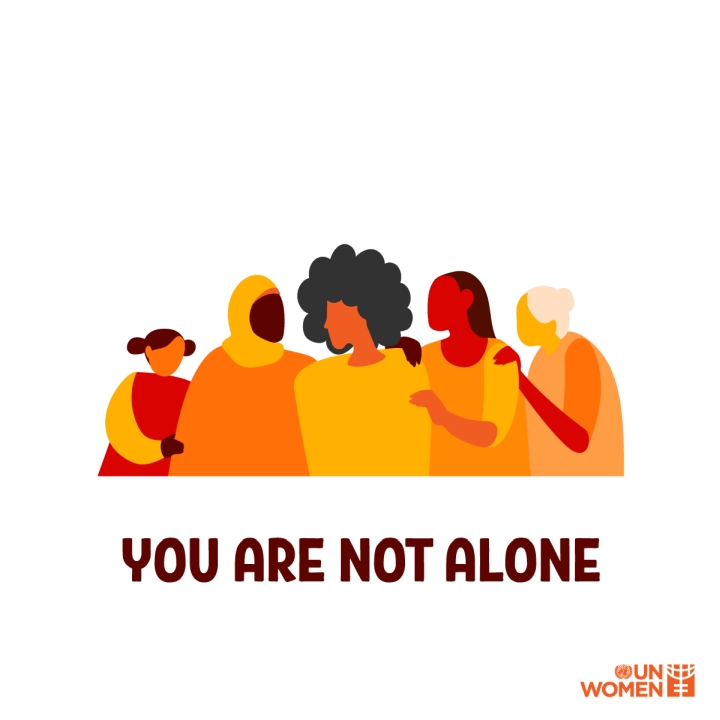 Start a conversation
Violence against women and girls is pervasive, but it's not inevitable, unless we stay silent.
Show your solidarity with survivors and where you stand in the fight for women's rights by oranging your social media profile for the 16 Days of Activism — you can download banners for Facebook and Twitter here.
On Instagram, you can use UN Women's face filter to spread the word and encourage your community to do the same.
Use #orangetheworld, #16Days and #GenerationEquality to start your own conversation about gender-based violence, or share some of the content from the UN social media package.
Stand against rape culture
Rape culture is the social environment that allows sexual violence to be normalized and justified, fuelled by the persistent gender inequalities and attitudes about gender and sexuality. Naming it is the first step to dismantling rape culture.
Every day we have the opportunity to examine our behaviours and beliefs for biases that permit rape culture to continue. Think about how you define masculinity and femininity, and how your own biases and stereotypes influence you.
From the attitudes we have about gender identities to the policies we support in our communities, we can all take action to stand against rape culture.
Learn more ways to stand against rape culture
Fund women's organizations
Donate to local organizations that empower women, amplify their voices, support survivors, and promote acceptance of all gender identities and sexualities.
Hold each other accountable
Violence can take many forms, including sexual harassment in the workplace and in public spaces. Take a stand by calling it out when you see it: catcalling, inappropriate sexual comments and sexist jokes are never okay. Create a safer environment for everyone by challenging your peers to reflect on their own behaviour and speaking up when someone crosses the line, or by enlisting the help of others if you don't feel safe.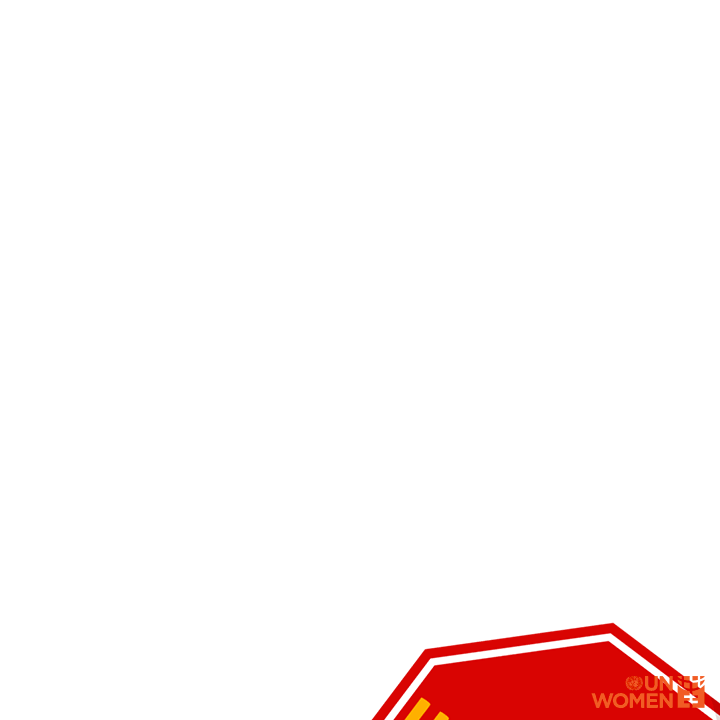 As always, listen to survivors and make sure they have the support they need.
Know the data and demand more of it
To effectively combat gender-based violence, we need to understand the issue.
Relevant data collection is key to implementing successful prevention measures and providing survivors with the right support.
As gender-based violence has spiked during COVID-19, the gaps in gender sensitive data collection have become more glaring than ever. Call on your government to invest in the collection of data on gender-based violence.
Power
Not calling out power as a cause of violence against women allows it to continue. We must never stop talking about power!
share on