recover better – stand up for human rights
Human rights include the right to life and liberty, freedom from slavery and torture, freedom of opinion and expression, the rights to food, education, work, health, and many more. Everyone is entitled to these rights, without discrimination.
Human rights are based on shared values like dignity, fairness, equality, respect and independence and apply regardless of where you are from, what you believe or how you choose to live your life. It's about being treated fairly, treating others fairly and having the ability to make genuine choices in our daily lives.
Hear what some children have to say about human rights:
Respect for human rights is the cornerstone of strong communities in which everyone can make a contribution and feel included.
The theme for the 2020 Human Rights Day on 10 December is Recover Better – Stand up for Human Rights. The focus is on the need to build back better by ensuring Human Rights are central to recovery efforts. We will reach our common global goals only if we are able to create equal opportunities for all, address the failures exposed and exploited by COVID-19, and apply human rights standards to tackle entrenched, systematic, and intergenerational inequalities, exclusion and discrimination.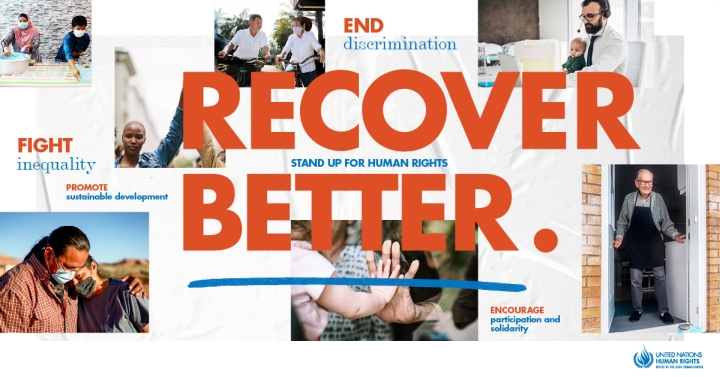 Human Rights must be at the centre of the post COVID-19 world
The COVID-19 crisis has exacerbated deepening poverty, rising inequalities, structural and entrenched discrimination and other gaps in human rights protection. Only measures to close these gaps and advance human rights can ensure we fully recover and build back a world that is better, more resilient, just, and sustainable:
End discrimination of any kind: Structural discrimination and racism have fuelled the COVID-19 crisis. Equality and non-discrimination are core requirements for a post-COVID world.
Address inequalities: To recover from the crisis, we must also address the inequality pandemic. For that, we need to promote and protect economic, social, and cultural rights. We need a new social contract for a new era.
Encourage participation and solidarity: We are all in this together. From individuals to governments, from civil society and grass-roots communities to the private sector, everyone has a role in building a post-COVID world that is better for present and future generations. We need to ensure the voices of the most affected and vulnerable inform the recovery efforts.
Promote sustainable development: We need sustainable development for people and planet:

End poverty and hunger and ensure all people can enjoy prosperous and fullfilling lives
Protect the planet from degradation by ensuring economic, social and technological progress occurs in harmony with nature
Take urgent action on climate change
Foster peaceful, just and inclusive societies which are free from fear and violence
Together we must leave no one behind.
share on